In the wake of recent events, a new debate has stirred on all the social platforms. On January 13, a promotional post was shared by Samsung Mobile US on their Twitter account through iPhone. This note is undeniably noticeable in the tag that appears below a Tweet on the platform. As speculated by the people, this missive is being considered as one of the biggest take-ups on the popular company as well as the years-old rival of Samsung.
Taking a look back, many people, or more specifically, brand ambassadors of certain brands, have found themselves under serious strain for using smartphones belonging to brands different from those they have signed up for. It is rare among such celebrities to post promotional content about their brands while being careless with the devices they use to perform the task. For instance, the former CEO of T-Mobile, John Legere, used his iPhone to promote Galaxy Note 3 on his social account. David Ferrer, a tennis player, posted on Twitter to applaud the services of Galaxy S4 as a promotional stunt while using an iPhone. Similarly, Ksenia Sobchak, who was hired to promote the products of Samsung, was found using iPhone X, for which she was sued by the company immediately.
Samsung is all set to bring another big surprise for its users by the name of Galaxy S21 this year. With enhanced display features and even better components, Samsung is ready to challenge the Apple iPhone 12 series. Like always, the reveal has stirred curiosity among people who are expecting more of Samsung this year. As quoted by the company itself: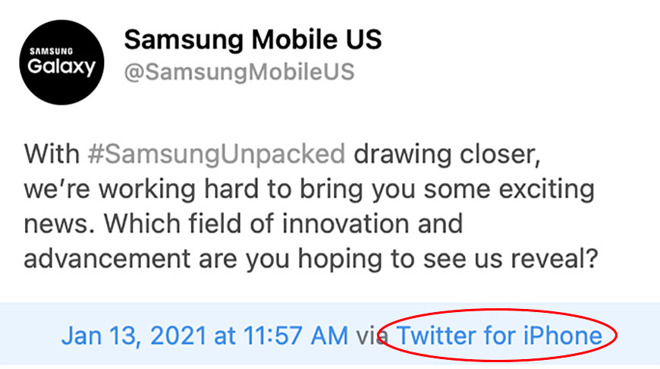 "With #SamsungUnpacked drawing closer, we're working hard to bring you some exciting news. Which field of innovation and advancement are you hoping to see us reveal?"