Memes are a somewhat new phenomenon that have taken the internet by storm over the last few years. Let's face it, we all know have that certain someone in our lives who loves to send us memes relentlessly. A meme is most often a picture of something from popular culture with text inserted over the image that is meant to make people laugh. Everyday more and more memes are created and shared across the internet.
2020 has been a year where memes have been used and needed more than ever because of the laugher that we all need in our lives because of the COVID-19 pandemic. Many people are using humor to cope with how bad things got in 2020 in the form of memes. Infamous beverage brand Four Loko recently surveyed 1,000 Americans asking them to rank their favorite memes of 2020. They wanted to get a feel for the most shared and the most used memes of 2020.
Listed below is the top list of memes ranked by Americans for 2020.
#25 Panik Kalm Pink
Coming in at #25 on the list of best memes from Four Loko which features "meme man". This popular meme shows a stark contrast between someone acting completely calm and completely panicking. This popular meme is relatable for many Americans because this is a common situation they deal with in their daily lives.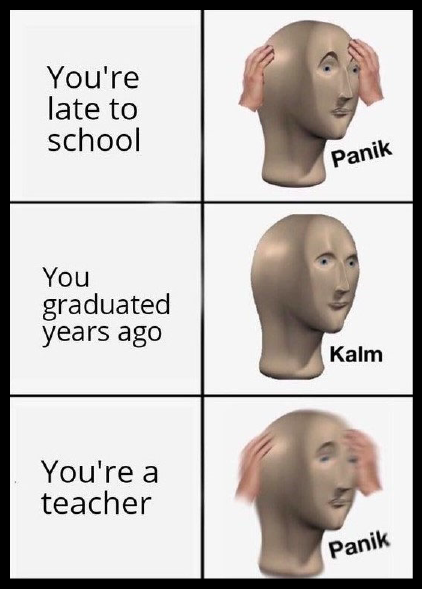 #24 Marriage Story Argument
At #24 of the list for most popular memes, we have a popular scene from the popular movie Marriage Story that stars both Scarlett Johannsson and Adam Driver. The meme portrays a scene of the two main characters fighting over issues that many people commonly face in their marriage. The part that really sticks out to meme is Adam Driver's face in this meme and that particular image has been used in many other similar memes in this year.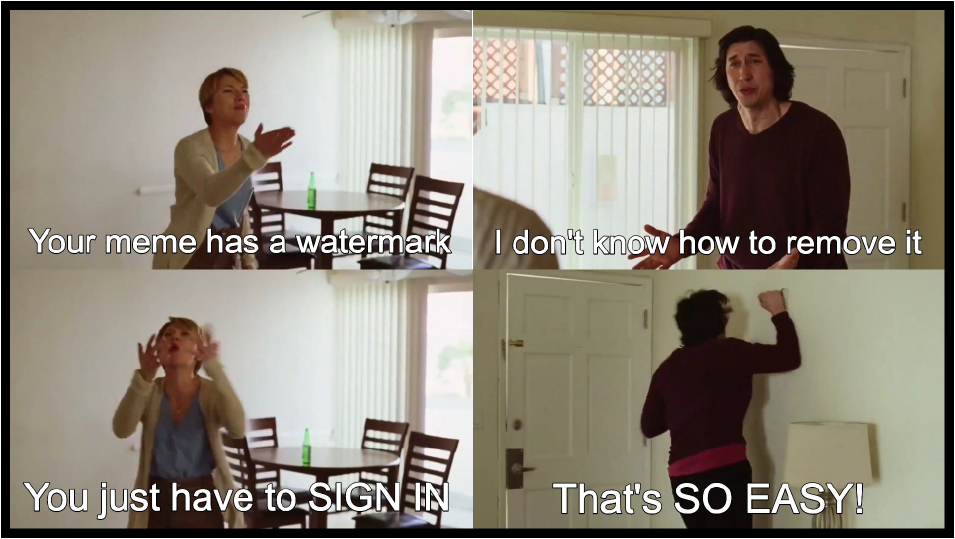 #23 Wait, it's all?
This meme is not new to 2020 but has recently seen immediately popularity this year. The meme shows two astronauts looking above the earth from space with the first astronaut looking at earth and asking the second astronaut what he's looking at. The second astronaut has a gun pointed at the first astronaut and sarcastically says "it always has been".


#22 I hope this email finds you well
The meme at #22 is perfect for 2020 with everyone working from home. Ultimately, when we receive an email that starts with "I hope this email finds you well" it usually does not find as well us embraced by the people featured in this meme generally looking mad or upset.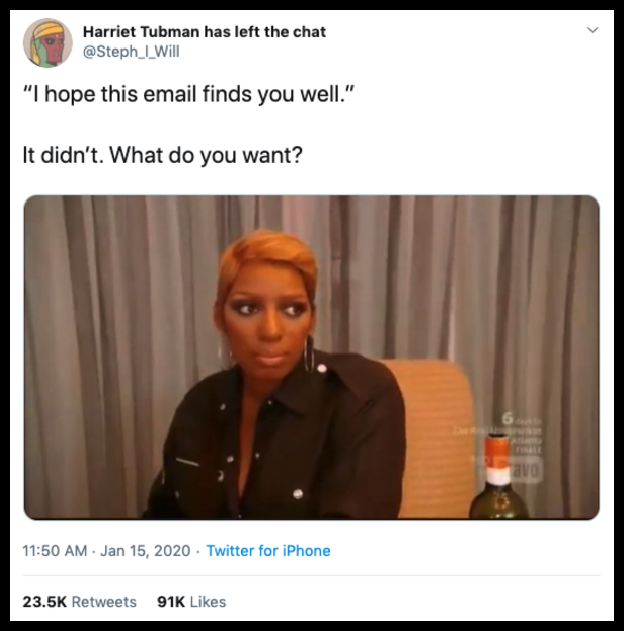 #21 Karen asking for the manager
Karen's are often referred to as women who don't get their way and often complain loudly about it. Think your typical soccer mom from the suburbs. Karen's often demand to speak to a manager to complain which is what is portrayed in this meme.
#20 D.W Behind a fence
If you are not familiar with D.W., she is a fictional cartoon character on the hit show Arthur. This meme portrays D.W. standing behind a fence generally upset at what she is looking at on the other side of the fence. I think this is something we can all relate to in the year 2020.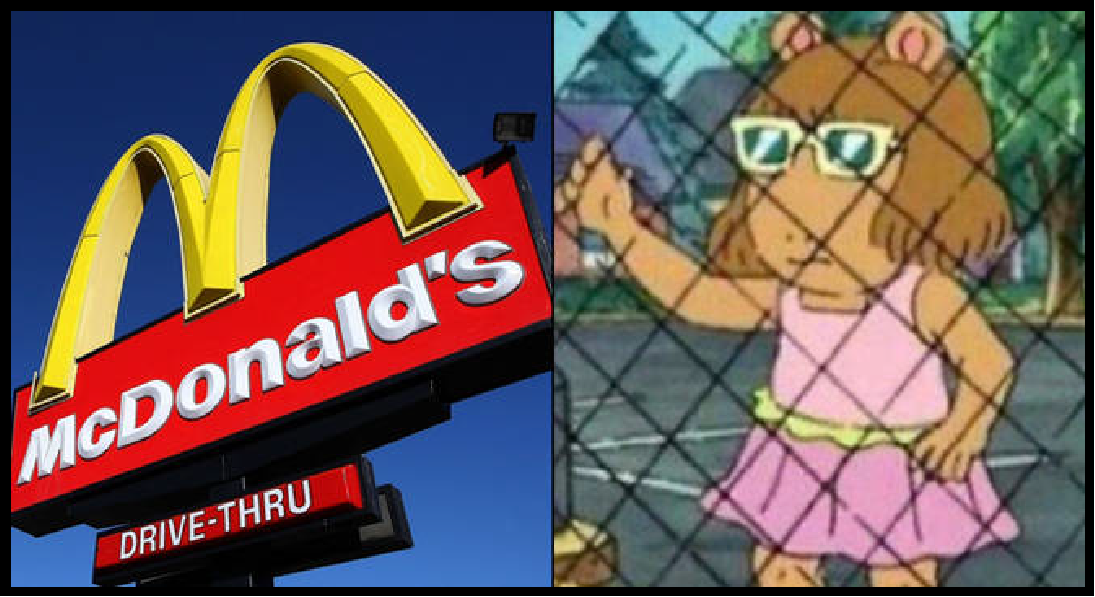 #19 Kissing Oscars
Kissing Oscars is a new meme for 2020 that shows the director from the film Parasite using the two Oscars he won this year to kiss. In this meme people use the image to create hilarious interpretations of people kissing one another.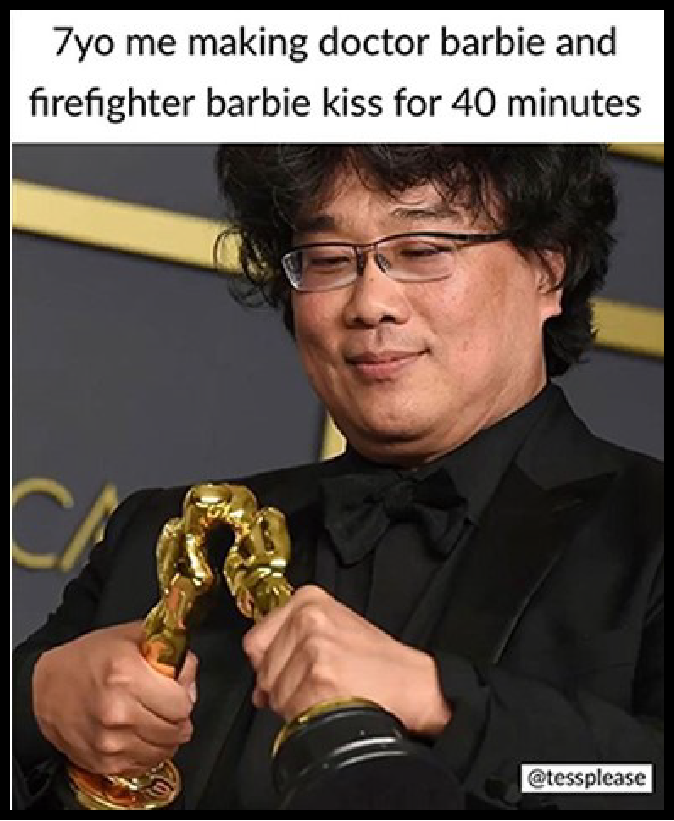 #18 Movie villain, actual villain
This meme portrays two people from popular movies or television shows as one of them being the villain that people who is the villain, where the person on the left of the meme is the actual villain. This has been applied to sports, movies and bother popular culture in various meme forms.


#17 Mentally, I am here
The mentally I am here meme shows a contrast between two pictures where people who where they are mentally vs where they actually are. These pictures are often not very serious so the message can be understood by the readers.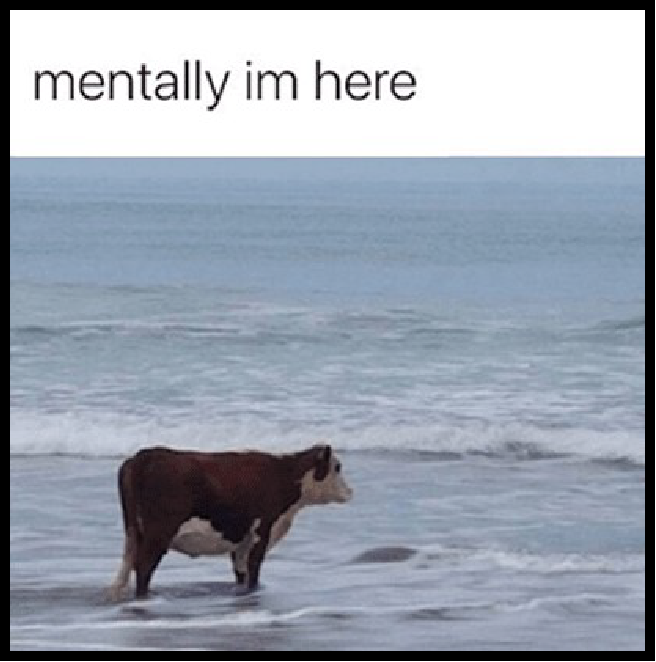 #16 Jonathan Swan confusion
The Jonathan Swan confusion meme is based on the viral video from this year of Jonathan Swan interviewing President Donald Trump. Jonathan is generally confused at President Trump's answers and his reactions have been captured perfectly for this meme.


#15 Tiger King
Tiger King was one of the most popular shows on Netflix this year, so it should come as no surprise to see it make the top memes list of 2020.


#14 Michael Jordan reaction
Michael Jordan reading his tablet from the hit show The Last Dance comes in at number 14 on the list of top memes of 2020. People like to show his various reactions and insert their own text for jokes for this meme.


#13 Missing the homies
2020 has been a year that has been incredible tough to see our homies and our close friends. This meme has a quarantine theme and shows the various way people area missing their best friends.


#12 We are the virus
We are the virus is another COVID-19 related meme that shows up on this list. This meme shows natural picks that are meant to inspire people who dealing with everything this year has thrown at us.


#11 Asking for your financial support
The asking for financial support meme features Bernie Sanders from one of his popular campaign ads that aired this year when he was running for President of the United States.


#10 LinkedIn, Facebook, Instagram, Tinder
This meme shows 4 different pictures of the same person portraying how they would dress on various social media profiles.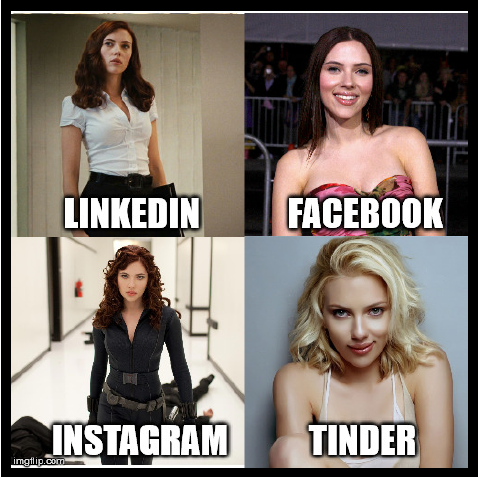 #9 2020 is our year
2020 is our year shows two different pictures. One how the year started and a second with how things look 3 months later, which is often very much worse.


#8 The Office standoff
This meme isn't new for 2020 but is very appropriate as it portrays Michael Scott from The Office having a standoff with other people that he works with. This is often portrayed as people attacking the Coronavirus in 2020.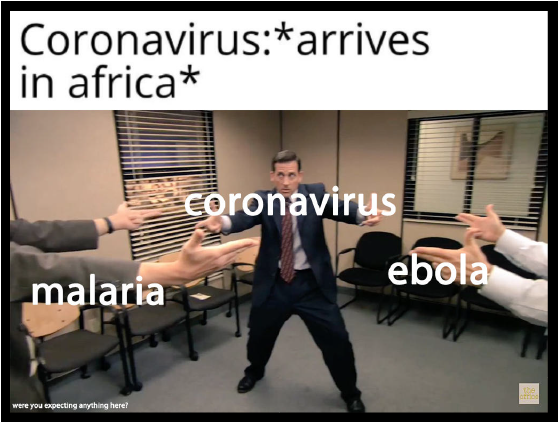 #7 Mood calendar
The mood calendar meme shows pictures of the same person for every month of 2020 slowing getting worse and angrier with each passing month of this year.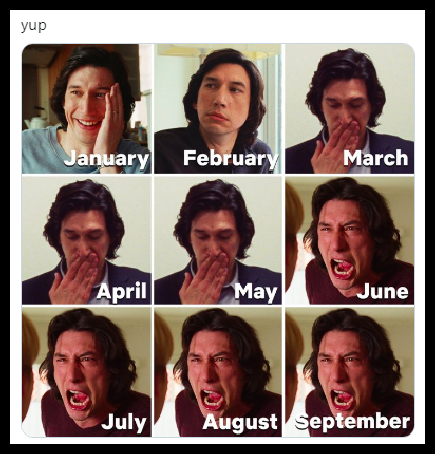 #6 Hand-washing song
The hand-washing song shows hand-washing techniques often for 20 seconds of a popular song to encourage people to wash their hands for 20 seconds to prevent COVID-19 spread.


#5 My plans….2020
This meme is another play on how people have struggled to deal with their lives in 2020 as a result of the Coronavirus.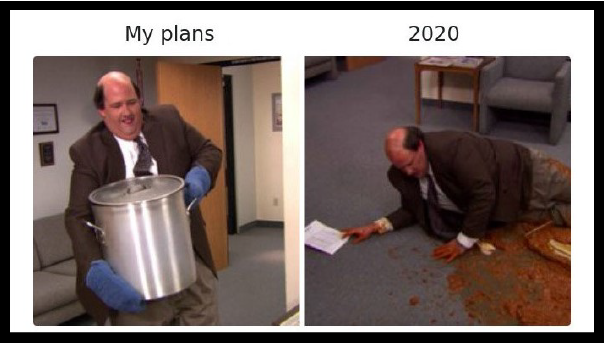 #4 March 1 st to April 1 st
Here we have another Coronavirus themed meme that shows how different people look from March 1st of this year April 1st of this year.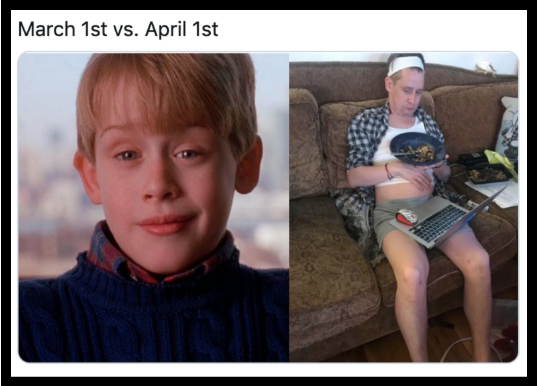 #3 Baby Yoda
Baby Yoda became popular in the hit TV show the Mandalorian. It turns out he is as popular in meme form as he is in the TV show.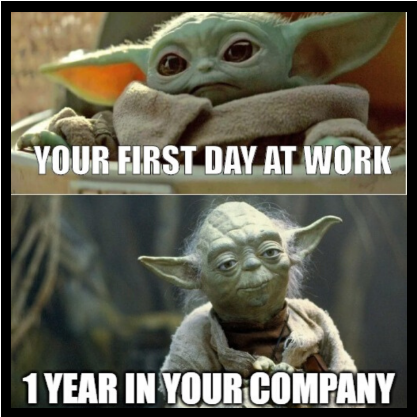 #2 Quarantine day____
This meme is a hilarious take on how people look during Quarantine. If you are noticing a theme here, you can see that quarantine and COVID-19 memes are the most popular of this year.


#1 Zoom meetings
Zoom meeting memes took the spot this year of the most popular meme. The rise in popularity of Zoom for virtual meetings and group meetups with friends as led to more Zoom related memes than any other in 2020.